WEBSITES
*Also see the list of our Radio Sponsor's websites at the bottom of this page*

Blue Letter Bible (Bible search and study tools)
https://www.blueletterbible.org/
Bible Gateway (Searchable online Bible in various translations)
https://www.biblegateway.com/
Clarence Larkin (Dispensational writings and charts)
https://www.larkinbooks.com/
Rapture Ready (End times news and prophecy)
https://www.raptureready.com/
Got Questions (Questions and answers from a Biblical perspective, including comparing Biblical truth with various false teachings of Jehovah's Witnesses, Mormonism, Seventh Day Adventists, Catholics)
Chick Publications (Evangelistic tracts for witnessing to just about anybody, and many are available in various foreign languages)
ChristianBook.com
(Christian books, Bibles and other items)
The Voice of the Martyrs
(An interdenominational missions organization that serves persecuted Christians around the world)
Mormonism Research Ministry (Comparing Biblical Christianity to Mormonism and outreach tools)
Truth in Love Ministry (Proclaiming Christ to Mormons. Empowering Christians to witness)
Jews for Jesus (How to reach our Jewish friends with the gospel of Jesus of Christ, their Messiah)
Abuse Recovery Ministry & Services (Faith-based abuse recovery classes for victims and perpetrators)
MarriageTeam Coaching (Christ-centered marriage coaching for your best marriage by
Celebrate Recovery (Christ-centered chemical dependency program for addicts and their families)
Christian Counseling Centers (Providing comprehensive & effective services
integrated with Christian beliefs and values)
Revelation Media (Films that promote Biblical literacy, discipleship and world evangelism)
BOOKS A great way to support Hearts of Love is by accessing your existing Amazon account through AmazonSmile and selecting Hearts of Love as the charity of your choice for your shopping needs. Click
to get started!

Devotionals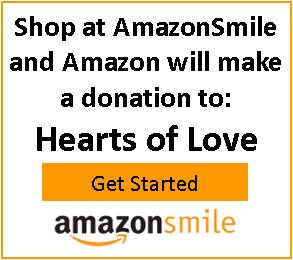 My Utmost for His Highest by Oswald Chambers
Morning and Evening by Charles Spurgeon
Streams in the Desert by Lettie Cowman
Beholding and Becoming by Ruth Chou Simons
Praying Through Cancer by Susan Sorensen & Laura Geist
Holiness in Hidden Places by Joni Eareckson Tada
Pierced by The Word by John Piper
Personal Growth & Study
Lord I Want to Know You by Kay Arthur
The Pursuit of God by A. W. Tozer
The Four Loves by C. S. Lewis
A Shepherd Looks at Psalm 23 by Phillip Keller
All of Grace by C. H. Spurgeon
The Knowledge of The Holy by A. W. Tozer
The Jesus You Can't Ignore by John MacArthur
Apologetics
Evidence That Demands a Verdict by Josh McDowell
More Than a Carpenter by Josh McDowell
Mere Christianity by C S Lewis
The Case for Christ by Lee Strobel
The God Makers by Ed Deker & Dave Hunt (Expose' on Mormonism)
Autobiography & Biography
Seeking Allah, Finding Jesus by Nabeel Qureshi
Betrayed! by Stan Telchin
God's Smuggler by Brother Andrew
Trapped In Hitler's Hell by Anita Dittman and Jan Markell
God's Double Agent by Bob Fu
Tortured for Christ by Richard Wurmbrand
Imprisoned With Isis: Faith in the Face of Evil by Petr Jasek
Hiding in The Light by Rifqa Bary
The Hiding Place by Corrie Ten Boom
No Compromise: The Life Story of Keith Green by Melody Green
Baby in a Box by LeRoy and Jane Ramsey
Through Gates of Splendor by Elisabeth Elliot
Foxe's Book of Martyrs by John Foxe
Let's Roll! by Lisa Beamer
Bonhoeffer by Eric Metaxas
Captive in Iran by Maryam Rostampour & Marziyeh Amirizadeh
Addiction
God is For The Alcoholic by Jerry Dunn
When Good Men Are Tempted by William Perkins
Pure Desire by Ted Roberts and Steve Arterburn
Marriage & Family
A Marriage Without Regrets by Kay Arthur
What Wives Wish Their Husbands Knew About Women by James Dobson
Love Must Be Tough by James Dobson
The Strong-Willed Child by James Dobson
Tune-Up Your Relationship by Barbara & Andrew Rice
Novels
Safely Home by Randy Alcorn
The Pilgrim's Progress by John Bunyan
My Dearest Dietrich: A Novel of Dietrich Bonhoeffer's Lost Love by Amanda Barratt
Redeeming Love by Francine Rivers
RADIO SPONSOR WEBSITES - We are so thankful for our amazing radio sponsors!
Minuteman Press of Tigard https://www.tigard.minutemanpress.com/
Tom Miller Remodeling http://www.tommillerremodelinginc.com/
Huber's Cafe https://hubers.com/
Pietro's Pizza https://www.pietrosrestaurants.com/
Wellstone Wealth Management, LLC https://www.wellstonewealth.com/
Capacity Commercial Real Estate https://capacitycommercial.com/
Todd Alan Woodcraft https://toddalanwoodcraft.com/
Shrum's Pest Control https://www.shrumspest.com/
Omni Realty Group https://omnirg.com/
Carpets for Kids https://www.carpetsforkids.com/
Uncle Larry's Pet Treats https://unclelarryspettreats.vpweb.com/